The Twins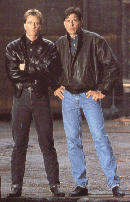 Possibly the most underrated synth-pop duo of all time. The Twins are Ronny Schreinzer (voc., synth) and Sven Dohrow (synth, keyb.). Some may wonder to find them listed here as they certainly are not a glam band (except for their now legendary shiny suits in the 80s), but The Twins are responsible for some of the greatest pop melodies ever written.
Based in Berlin their career started in 1979. After the first more experimental electronic albums they developed their sound to a more melodic direction. That´s when they released several minor hits in various European countries throughout the 80´s, i.e. "Ballet Dancer", "Not The Loving Kind", "Love System", "The Game Of Chance", "Deep Within My Heart", "Love In The Dark". Unfortunately many critics at that time compared The Twins rather with Dieter Bohlen productions instead of the likes of Depeche Mode, Sparks, Kraftwerk, Pet Shop Boys...
Today Twins fans are still more or less patiently waiting for a follow-up to their last studio album "The Impossible Dream" from 1993 (a true masterpiece, by the way). The endless periods between Twins releases these days even make Kate Bush look like an assembly-line worker!
Anyway, Ronny and Sven have created their own extensive Twins homepage and it is the best place to get the latest news and most comprehensive informations. Check it out, you won´t find more about The Twins anywhere else.
The official Twins website: www.the-twins.de
---