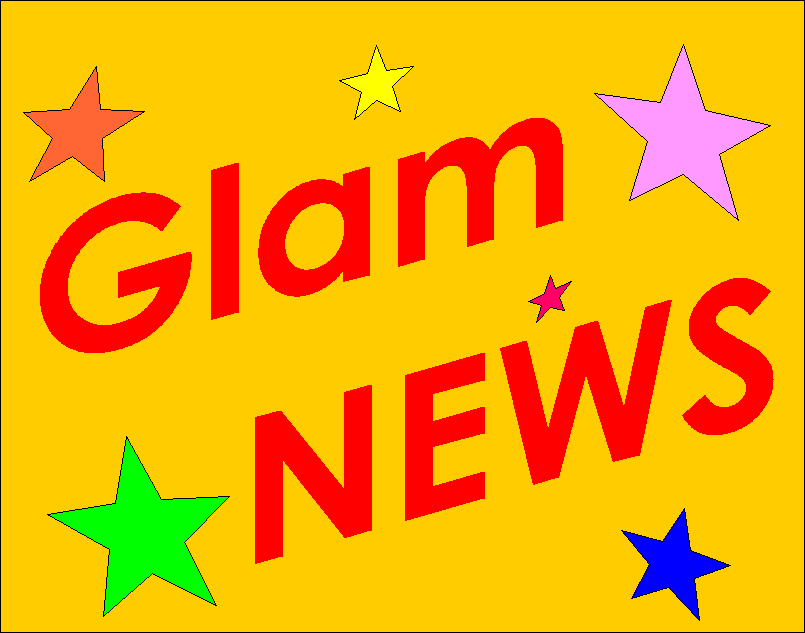 ---
ARCHIVE
---
December 2002
Slade

Slade 2 have released their new album "Cum On Let´s Party" which is a compilation of old and new songs from the post- Noddy Holder line-up. Released by a major label (Virgin Records Germany) the tracks are:
1. Cum On Let's Party
2. Johnny Played The Guitar
3. Run Run Rudolph
4. Merry X-Mas Now
5. Black And White World
6. Hold On To Love
7. Take Me Home
8. Wild Nites
9. I Hear Ya Callin
10. Red Hot
11. Some Exercise (Bonus Track)
Slade 2´s new album at Amazon:
"junk-shop glam"
For glam fans and collectors the new year starts with a sensational new release: the first ever "junk-shop glam" compilation CD. "Velvet Tinmine - 20 Junk Shop Glam Ravers" (RPM/Cherry Red - RPM 251) includes many forgotten glam classics re-discovered with help of the feature in Record Collector magazine almost one year ago which unexpectedly started a strong interest in artists such as Iron Virgin or Brett Smiley. Hopefully "Velvet Tinmine" is the start of a forthcoming series, there are lots of songs waiting for further volumes. Here is the full tracklist:
Iron Virgin - Rebels Rule / Hello - Another School Day / Warwick - Let's Get The Party Going / The Damned - Morning Bird / Sisters - Kick Your Boots Off / Flame - Big Wheel Turning / Tartan Horde - Bay City Rollers We Love You / Simon Turner - Baby I Gotta Go / Ricky Wilde - I Wanna Go To A Disco / Brett Smiley - Va Va Va Voom / Staveley Makepeace - Slippery Rock 70s / Arrows - Toughen Up / Crunch - Let's Do It Again / Bearded Lady - Rock Star / Big Wheel - Shake A Tail / Fancy - Wild Thing / Tubthumper - Kick Out The Jams / Plod - Neo City / Washington Flyers - The Comets Are Coming.
"Velvet Tinmine" at Amazon:
Jet




Once again the complete (?) recording history of Jet has been released on 2 CDs.
The first CD features the original "Jet" album plus the rare single b-side track "Quandary". Also available again is the "More Light Than Shade" CD which is a compilation of previously unreleased songs from the second Jet album, demo and live recordings.
2 years ago both CDs already appeared as an lavishly packaged double-CD set (see our news) which soon got deleted.
The new Jet re-releases are now available via Martin Gordon´s website or Amazon:
Suede


Their second single from their current "A New Morning" album is one of their finest in a long time and probably the most glam-style one since "Trash" or "Filmstar" (1996). Only available in the UK "Obsessions" has been released on 2 CD singles and one dvd single which all - in best Suede tradition - include many unreleased new "b-side" songs.
Suede´s "Obsessions" releases at Amazon:
Virginia Creeper

The new EP by N.Y. based "industrial glam" band Virginia Creeper is out now. "Comfortable In The Pain" features the 2 songs from the first single "Hot Child In The City" plus 2 new songs: the uptempo and catchy "Restless" and the acoustic ballad "Mercy". More info on Virginia Creeper at www.virginiacreeper.net.


November 2002 - DVD special -
T.Rex, Slade, Alice Cooper "EP" DVDs
A special "EP Series" of music DVDs has been launched recently by Classic Pictures Entertainment Ltd. featuring many glam classics. Some have been released already, others will follow early 2003. There will be a special 70s DVD entitled "Get It On - 70s compilation", too.
The "EP Series" DVDs at Amazon:
Robin Black & The Intergalactic Rockstars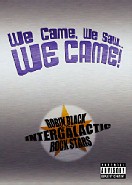 Just in time for Xmas comes the first DVD release by Canada´s glam band No. 1 featuring 3 promo videos, unreleased clips, live and interview footage and much much more. A must for glam fans and a perfect introduction of a band which hopefully will become visible worldwide very soon.
The Robin Black & The Intergalactic Rockstars DVD at amazon.com: Robin Black & Intergalactic Rock Stars

Andy Scott´s Sweet
Following their new album "Sweetlife" and an accompanying extensive tour A.S. Sweet will release the "Sweetlife DVD" very soon.

Rolan Bolan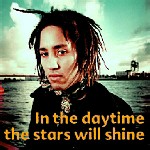 "In The Daytime The Stars Will Shine" directed by Peter van Houten is a fascinating and emotional documentary about the son of Marc Bolan and Gloria Jones. The film covers the period 1997 - 2001 when Rolan started to discover his roots in London. Further insight is given by the interviews with Gloria Jones and her late brother Richard Jones. Available both on VHS video (PAL, 21,95 Euro and $ or £ 13,95) and DVD ($/Euro 34,95 or £ 21,95), only the DVD version additionally features 9 live tracks recorded at a 2001 Rolan Bolan concert in Rotterdam extending the running time to 90 minutes.
Both formats can be ordered by cheque, postal order or cash (the above prices include shipping) from:
Zest Pictures
Westersingel 107
3015 LD Rotterdam
The Netherlands
more info: www.zestpictures.nl

Golden Earring
No less than 3 new Earring DVD releases will be available soon. The aforementioned "Don´t Stop The Show" is a fantastic documentary on the almost 40-year history of the most famous Dutch band of all time. Very soon there will be a DVD compilation of the popular "Naked Truth" unplugged gems of the 90s and a DVD called "35 Years" which very likely will be corresponding to the anthology box-set of the same name. Information on all Golden Earring DVDs and more you will find at the official website www.goldenearring.nl .

Sailor
Sailor´s very special 2002 UK concert concert at the Swan Theatre (Town Hall) in High Wycombe on 16th November has been filmed for a DVD release to be released in early 2003 and available by mailorder. Please check the Sailor website for further details.

Mickey Finn´s T.Rex


One of the recent shows from the band line-up by the original T.Rex percussionist has been filmed for a live DVD release entitled "Back In Business".
Mickey Finn´s T.Rex - Back In Business DVD at Amazon:
David Cassidy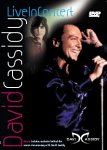 After David´s incredibly successful best-of CD last year highlights of the sell-out "Here And Now" tour are now captured and available on the "Live In Concert" DVD (zone 2, UK, Europe, Pacific, Japan only) and PAL VHS video cassette.
David Cassidy´s "Live In Concert" DVD at amazon:
Roxy Music
Finally, a DVD release of the Bryan Ferry and Roxy Music Video Collection will be out soon.


October 2002
The Ark


With their second album The Ark finally prove that they indeed are the first real Number One glam-rock band of the 21st Century! Their second masterpiece "In Lust We Trust" which as expected already is this year´s smash-hit in their home country Sweden will hit the international market in mid-November, accompanied by the single "Calleth You, Cometh I" (unfortunately delayed towards January 2003) which will have the equally sensational b-side tracks "Power To Change" and "The Glad Yeah" (the latter taken from the second single off the album in Sweden, "Father Of A Son"). The third single there will be "Tell Me This Night Is Over".
You already read news on this new album by "The Ark" here several times before but now it´s for sure: "In Lust We Trust" is a must!!!
The glam album of the year - The Ark´s "In Lust We Trust" now at Amazon:
Suede


Now it is out, the first Suede album of the new Millennium. But although "A New Morning" contains strong songs some of the well-known Suede magic is missing this time. No complicated oddities, but straightly rocking tunes - but still one of the best albums of the year. Fortunately Suede renew their reputation of releasing superb "b-side" tracks again as the extras on the "Positivity" releases (i.e. "One Love", "Simon" or "Campfire Song") prove. The second single will be "Obsessions" to arrive in the shops in November.
The latest Suede releases at Amazon:
Marc Bolan & T.Rex





After the 25th anniversary in September the flood of exciting new releases keeps going on. For the collectors Edsel has released 2 box sets featuring the T.Rex Wax Co. singles (1972 - 78) spread on CDsingles in various international 7" sleeve replicas.
Another Singles A´s and B´s collection has been released in Germany by Repertoire Records, too.
The latest Bolan / T.Rex double CD release "Boogie On" from the Burning Airlines / NMC label features the U.S. acoustic radio session from 1971 (as on the "Till Dawn" release years ago) plus 4 live in concert tracks from that period and an interview on Disc 2 which already has been released in 1982 entitled "Where´s The Champagne" on Rhino Records.
Finally TPL (Thunderwing Productions Limited) for official reasons have released a "The Slider Recordings" T-Shirt with a "bonus" CD including recordings from original multi-track masters in superb sound quality without any additional equalisation or instrumentation. A worthy addition to the "30th anniversary" releases of "Electric Warrior" and Bowie´s "Ziggy Stardust" and a real must!
"The Slider Recordings" T-Shirt and CD set is exclusively available at www.thunderwing.com
The new Bolan releases at Amazon:
Sparks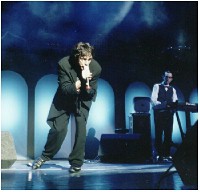 On October 19th Sparks presented one of their finest albums EVER at London´s Royal Festival Hall for the first time, "Lil´ Beethoven" probably is their most original masterpiece to date. The music really cannot be compared with anything else heard before. Some British papers already called it their "Sgt. Peppers", currently there is no term available for this style of music, whether it is a pop-symphony, a modern opera, musical, whatever. It is a concept album you have to listen to without break from the start to the end, over 75% without drums but instead rich piano sounds, orchestration, breathtaking backing-vocal constructions and string arrangements that will make Tony Visconti envious. Though glamourous it is no glam-rock as such of course, anyway "Lil´ Beethoven" contains one rocker that makes Marilyn Manson look even paler than usual: "Ugly Guys With Beautiful Girls".
Take a look at the new official Sparks website allsparks.com and hurry to get an early copy of the new album in its outstanding limited edition package.
"Lil´ Beethoven" at Amazon:
David Bowie


Shortly after the excellent and successful "Heathen" his latest "best of" is out now with various trackslists differing internationally - the UK, U.S., French, Japanese, Australian, German etc. editions contain the most successful singles from each countries.
However much more exciting and a must for every glam-rock fan is an accompanying double-DVD best of release not only featuring the video clips, but also some of the most sought after and rare TV performances of Bowie from the glam era on DVD1. Among the highlights are the "Old Grey Whistle Test" appearances ("Oh You Pretty Things" even comes in 2 different takes, the second being one of many hidden "easter-eggs" included in this fantastic package), "Drive In Saturday" plus interview (hidden) from Russell Harty´s 11plus, "Starman" on TOTP and "Young Americans" from the Dick Cavett Show to name but few.
David Bowie´s "best of" DVD at Amazon:
---
---