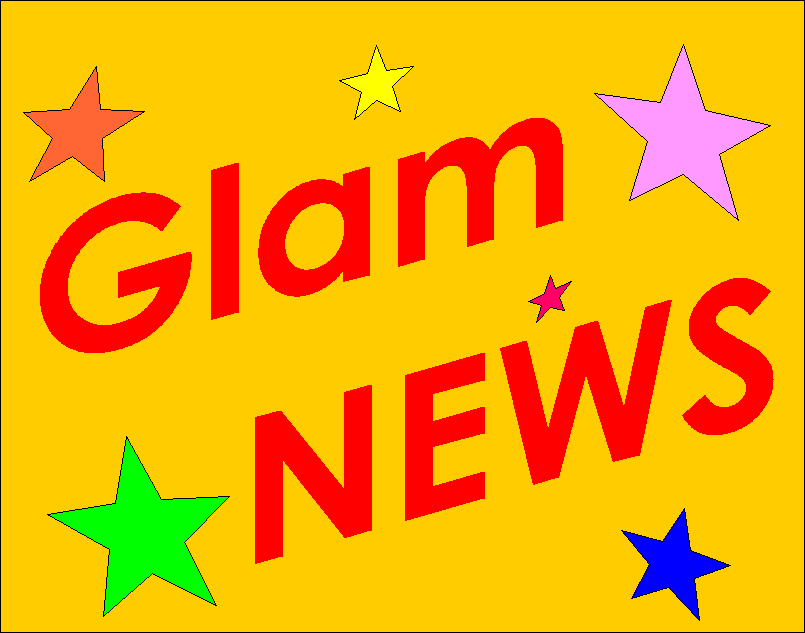 ---
ARCHIVE
---
September 2001
Sailor
A new anthology CD boxed set entitled "Buried Treasure" featuring not only greatest hits, but also rarities such as unreleased material, re-mixes and some of the most recent recordings of the band and an expected detailed booklet is the item of desire Sailor fans are looking forward to at the moment. For more information about this superb release please check the Sailor website or email sailormusic@hotmail.com .

Marc Bolan
If you are in London during the weekend 15th / 16th September don´t miss the Marc Bolan events remembering the 24th anniversary.
Hard to decide where to go on Saturday, Sept. 15th: T.Rextasy play at The Standard Music Venue (Blackhorse Lane / Walthamstow) with special guest on keyboards: Dino Dines. Support act will be Tyrannosaurus Jed who are well-known for their astonishing performances of Tyrannosaurus Rex songs. Around The same time Rolan Bolan AND Johns Children play a gig at The Underground Club in Camden.
On Sunday fans meet at Golders Green throughout the whole day, in the evening there will be a party at the nearby "Klub Extreme".

Bryan Ferry
Bryan Ferry has recorded a version of the Elvis classic "Dont Be Cruel" together with Mark Knopfler, Marcus Cliffe, Chris White, Jools Holland, Scotty Moore and D.J. Fontana (the latter 2 were members of Presley´s backing band). The song will appear on a forthcoming tribute album to Sun Records, scheduled release date in the U.S. is October 2nd.

Golden Earring
The fantastic 4-CD boxed set "The Devil Made Us Do It - 35 Years" (remember the December news) went Platinum in the Netherlands. The only missing thing at the time of this highly recommended item was an English translation of the excellent booklet, it has been published at www.goldenearring.nl now.

*** website-changes and brand new features ! ***
Many thanks for all your positive feedback and suggestions through emails and guestbook entries during the past weeks. You will notice a few updates in the more streamlined link section which features a few "new" artists, i.e. Silverhead and Placebo should have been there a long time ago and yes - there is Iggy Pop, too :-)
Possibly the most exciting new feature is the live section, to be honest it turned out to be more than surprising how massive this site would become. Practically every band seems to tour at the moment. Like the news the live site will be updated once a month, don´t hesitate to send further concert infos that are missing there.

August 2001
Slade
Good and bad news for Slade fans who are waiting for Jim Lea´s solo album. The good: the album already is completed. However - and here you have the bad news - it won´t see the light of day in 2001. But since it is intended to become a major release we are sure further patience will be worth in this case. More detailed infos and the reasons for the delay you will find at the news section of the Slade fanclub here.

Suede
The long-awaited and still untitled new album by Brett (now blonde !!!) & Co. will not arrive at the shops before spring 2002. However, while waiting Suede fans will soon have to look out for forthcoming mid-priced reissues of the band´s first 4 albums. The most exciting thing here will be that each album will be accompanied by a bonus CD containing tracks which will include hard-to-find b-side tracks that were not included in the "Sci-Fi Lullabies" collection, alternate versions of familiar tracks and even previously unreleased songs.

The Ark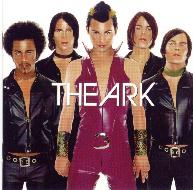 OK, this info comes a little late since the debut album "We Are The Ark" (Virgin Records Sweden 7243 8 50315 2 6) by this Scandinavian band already has been released some months ago. They already raised our attention with the sensational song "Echo Chamber", but also tracks like "It Takes A Fool To Remain Sane", "Let Your Body Decide" or the Sweet-esque "Ain´t Too Proud To Bow" are further highlights making "We Are The Ark" one of the finest and most recommended albums of the year. The official website of "The Ark" is www.theark.nu though the English language alternative is more useful at the moment.

Sigue Sigue Sputnik
So far their new album "Pirate Space" has mainly be available by mailorder exclusively despite some copies which found their way to some of the megastores in the UK. Most recently Sigue Sigue Sputnik have signed a deal with the Trisol label which means that the album will be released officially on Sept. 7th in Germany, Austria and Switzerland, too. The release will be accompanied by a Euro-Tour so there are many chances to see Tony, Martin and Neil live soon.

The Glitter Band
Last year John Springate and his Glitter Band - mate Gerry Shephard enjoyed success with the UK contribution to Eurovision 2000. Since then the duo has been very busy writing and producing songs for various dance projects such as Patti Ravell and most recently Jenny Sinclair.
Another project is "The John Springate Revue", a musical kind of show that combines 60s, 70s and 80s Pop, Rock and Soul. Tour dates and latest news as always on the Glitter Band website.

******* telegram sam: news bits august *******
Jobriath: On August 8th American VH-1 presented a program entitled "From Below the Waist- men, Woman & Music" featuring Jobriath - Originally planned to be screened on Aug. 9th probably only few fans realized this as even the Jobriath website informed about the change in schedule at last minute. We hope to present more Jobriath infos with our September news, especially on the CD reissues of the 2 albums.
T.Rex: There is a 2-page article on the remastered "Electric Warrior" reissue in the August issue of Record Collector.
Please check our slightly updated "and more" link-section for the addition of V2 and the new link to an excellent Mud website. In a couple of weeks we will present a newly-structured link-site combining the "A-Z", "more" and "general" pages. Since there is no doubt that glamrock is alive we hope to offer an "on tour" section as a new feature very soon.

July 2001
HIM
Their latest single "Pretending" - currently scoring high at most European charts - is accompanied by a video that looks extremely glamourous but which also displays more obviously than ever before that the Finnish band´s lead singer Ville Valo is more and more becoming a Marc Bolan impersonator!

Herman Brood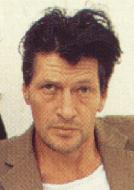 This month´s sad news is the passing of Dutch singer Herman Brood who comitted suicide on July 11th by jumping off the roof of Amsterdam´s Hilton Hotel. Brood (aged 54), was known for rock classics such as "Saturday Night", "Dope Sucks", "Vision", "Sleepin´ Bird" and many others leaves a wife and a 16 year-old daughter. The next 2 days U2 dedicated their song "One" to him during their concerts at Cologne´s Arena.

Alice Cooper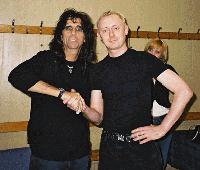 Only recently Alice - for whatever reason - teamed up with Alexander "Android" Hofman from Swedish space-fun-synthpop (nowadays known as "Future-Pop"...) - band S.P.O.C.K.. The announcement that there will be a collaboration most likely is just a joke but although it might be a strange couple at first sight the idea of a kind of Alice Cooper / S.P.O.C.K. - duet would be a cool idea.

Sparks
While Ron and Russell are still busily recording a brandnew Sparks album they just announced 2 L.A. shows for October this year. On Oct. 5th (Russell´s birthday!) they will play at Anaheim´s "House Of Blues", one day later you can catch them at Hollywood´s Key Club. More more infos you will find at www.sparksofficialwebsite.com .
Meanwhile, a dancefloor-act called "Trisco" has released a single called "Musak" which is mainly based on samples of "Tryouts For The Human Race" and other songs from Sparks´ innovative album "No.1 In Heaven" from 1979. It reached the UK Top 30 singles charts.

******** telegram sam: news bits july ********
T.Rex: no month without a new T.Rex release. "Electric Warrior" will be reissued by A&M again which as such is not that exciting but this time it will be remastered by Tony Visconti and bonus tracks will be included.
Steve Harley and Cockney Rebel will start another UK tour in Autumn that will run from October 19th to November 19th.
the Roxy Music reunion tour seems to go extremely well so that more dates have been added to the schedule recently. All shows are listed at www.roxyrama.com

David Bowie: "All Saints" is the title of a new compilation CD including instrumental tracks from 1977 - 1999.
---
---
HOME