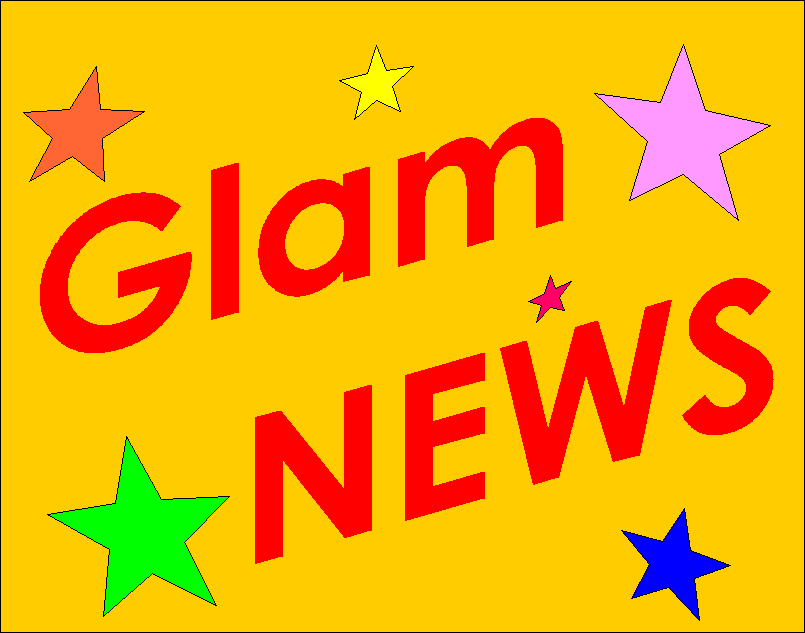 ---
ARCHIVE
---
June 2000
Marilyn Manson
The next MM album entitled "In The Shadow Of The Valley Of The Death" is scheduled for an October 2000 release.
Alice Cooper
Alice will become TV presenter for the horror film channel of German pay-TV giant "PREMIERE WORLD" where he will announce horror film classics.
Marc Bolan
Once again there are heavy changes at www.marc-bolan.com. The official website started very promising at the beginning of the year in an extensive, very update style under the guidelines of Fee Warner in cooperation with John and Shan Bramley. In May the already well-accepted website suddenly only featured a new statement from John and Shan that both will be responsible from now. At the moment these news are compiled you will find just a start-site, we are awaiting forthcoming things.
Jet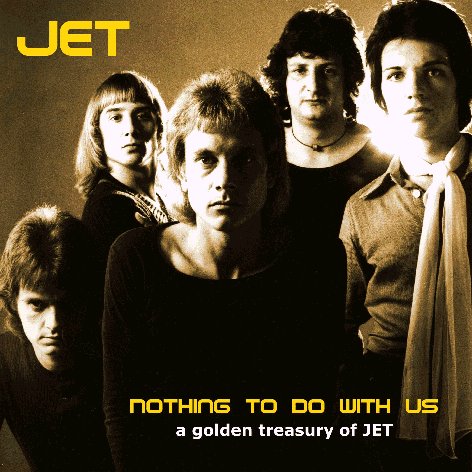 The 2-CD reissue of the 1975 self-titled only album by Jet is out now titled "Nothing To Do With Us - a golden treasury of JET". The CD can be ordered at Fan Mael Records.
Nina Hagen
Finally the single "Schoen Ist Die Welt" has been released on May 29th.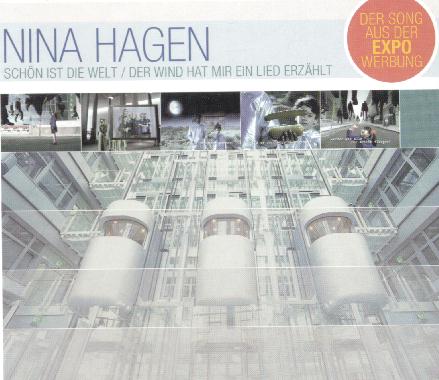 Tracklisting:
1. Schoen Ist Die Welt 3.34
2. Der Wind Hat Mir Ein Lied Erzaehlt (radio edit) 3.49
3. Der Wind Hat Mir Ein Lied Erzaehlt (long version) 5.34
4. EXPO 2000 TV-Spot 0.45 (Multimedia Track, PC & MAC)
There could have been a better value for money since tracks 2 and 3 are known already from her previous single.


Sparks

The word "soon" has its very own meaning in Sparks-world, but the VERY long-awaited new album "Balls" should be out in August worldwide. For the U.S. there already are 2 live gigs confirmed, please check the official website www.SparksOfficialWebsite.comthat will open in a few days with the unveiling of all the upcoming events and projects by Ron and Russell.

Warning: non of this will be glamrock!

Inge Meysel 90 !!!

Happy Birthday to Inge Meysel who became 90 years of age on May 30th. The German actress is best known for one of the most famous "blow-jobs" in pop history when she met Marc Bolan at the 1972 BRAVO Otto Awards in Munich.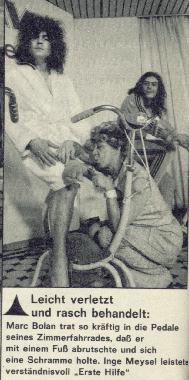 May 2000
Marc Bolan
There are 2 excellent new books available:
1. Marc Bolan: 1947 - 1977 - A Chronology (Zinc Alloy Books)
The title says it all, this is a very extensive documentation on Marc´s music carreer which comes as a bounded hardback issue with full colour dust sleeve.
2. T.REX: Photographs By Sukita
Amazing book of photos taken by Japanese Photographer Sukita, published by COLOUR FIELD, Japan. It contains numerous colour photos, many have never been seen before.
David Bowie
The third single from "...hours" is rumoured to be "Seven", one of the best album tracks. The tentative release date is June 26th right after David´s performance at Glastonbury.
Another rumour circulating for a long time already is the release of the BBC Sessions / Bowie at the Beeb , probably in autumn 2000 featuring rare BBC material from the late 60s / early 70s.
Nina Hagen
A new single "Schön ist die Welt" - the song from the EXPO 2000 TV-advert should have been released at the end of April in Germany, Austria and Swisterland. As no copy has arrived in the shops so far it is expected that there is just one of the usual slight delays and it will be out in early May. The song is not on Nina´s current "Return Of The Mother" album that reached the German Top 100 in February where it hit at No. 77.
Suede
Recent "rumours" about a split of the band are completely false, Suede are already recording their 5th album at the moment.
Sigue Sigue Sputnik
Not exactly news since April. The new release date for the Westbam remix single is now in the first half of May while the album has been delayed until the end of the month. However, as recordings are still not completed it is more likely that "Pirate Space" won´t see the light of day before June.
EUROVISION 2000 - vote for Nicki French!!!
A last reminder: on May 13th is the European premiere of "Don´t Play That Song Again", the UK-entry written by John Springate and Gerry Shephard of the Glitter Band.
April 2000
Alice Cooper
New album and EuropeanTour !!!
BRUTAL PLANET is the title of the new Alice Cooper album to be released in May. It appears that among others Slash, Dweezil Zappa and also Bob Ezrin are involved. No details about tracks are known yet but one songtitle "Maths Sucks" already emerged although this may be a working title. Alice has a new record company as well, Spitfire records.
An extensive European tour will start very soon, we will add more Alice websites to our Alice section during the next couple of days where all gigs are listed now.
Sigue Sigue Sputnik
Meanwhile the first promo 12" singles of the "Love Missile F1-11" Westbam remixes on EMI are in circulation. Unfortunately this new version is virtually pointless and lost all charm and energy of the original. It is slow, boring and not danceable at all. Even Dieter Bohlen would have done a better job. Hopefully the new Sigue Sigue Sputnik album "Pirate Space" will be based on the band´s own talents and inspiration.
Wizzard
The mysterious third Wizzard album "Main Street" is out now on Demon/Edsel (EDCD 626). Tracks are:
Main Street
Saxmaniax
The Fire In His Guitar
French Perfume
Take My Hand
Don't You Feel Better
Indiana Rainbow
I Should Have Known
Slade vs. Oasis
Noel Gallagher , guitarist and song-adaptor in Oasis - who often included the Slade classic "Cum On Feel The Noize" in their live setlists has the desire to record a song with Noddy Holder. After he wore a T.Rex T-Shirt on the cover of a recent issue of "UNCUT" magazine there are signs that their Beatles inspiration has come to an end. Are Oasis going to borrow from Glam Classics now ???
Chelita Secunda
On March 7th 2000 Chelita Secunda died after a heart-attack, aged 55. Chelita contributed a lot to the career of Marc Bolan, her husband at the time Tony Secunda (he died in 1995) set up the deal for Marc´s record label T.Rex Wax Co.
Steve Harley
This spring Steve does a lot of touring in the UK and also Denmark. A German tour might happen in autumn, there are still negotiations. Check all tour dates at his official website.
Some time ago the CD reissue of the albums "Hobo With A Grin" and "The Candidate" were announced, fans were asked for suggestions which songs could be added as bonus tracks. Here are the results:
Hobo With A Grin plus 'Spaced Out' (The original) and 'That's My Life In Your Hands' (Live)
The Candidate plus 'I Can't Even Touch You' (original) and 'Psychomodo' (Live)
However, there are no concrete release dates in sight.
---
---
HOME