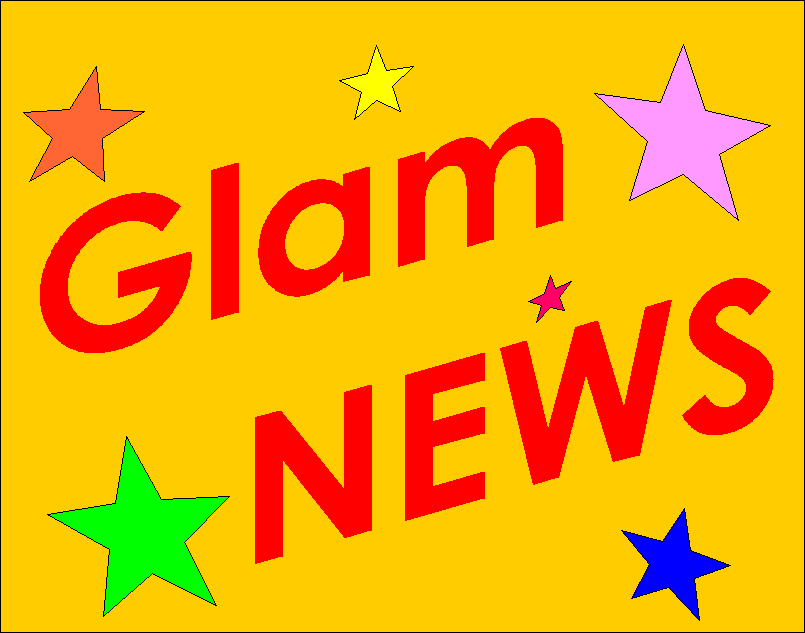 ---
ARCHIVE
---
March 2000
The Glitter Band(almost)
Conquers Eurovision 2000 !!!
They finally made it! The John Springate / Gerry Shephard penned tune "Don´t Play That Song Again" performed by singer Nicky French is this year´s UK Eurovision song !!! Check thisfor pictures and a short extract of the song. Together with Germany´s glamourous "Wadde Hadde Dudde Da" by Stefan Raab the 2000 song contest will become the most interesting one since 1998´s Dana International / Guildo Horn extravaganza... Watch it on May 13th and party!!!
Sigue Sigue Sputnik
After years of announcements and promises Sputnik activities finally seem to materialize. The "new" single will be a Westbam (!) remix of "Love Missile F1-11" in March, new album "Pirate Space" will follow in April. However, release dates are not available yet, they will be added as soon as possible.
Despite of Leipzig´s ""Wave Gotik Treffen" Sigue Sigue Sputnik also appear at this year´s "MAYDAY" techno mega-event in Dortmund/Germany on April 30th with a probable TV screening! Earlier - 23rd April (easter-sunday) there will be a London show together with other bands including the promising "Mesh".
Brian Connolly / The Sweet
On February 9th 2000 Brian Connolly was honoured with a memorial plaque at Breakspear Crematorium, Breakspear Road, Ruislip, Middlesex with members of Brian´s family and Sweet fans attending. You will find more details at the SWEET website where the following picture has been taken from.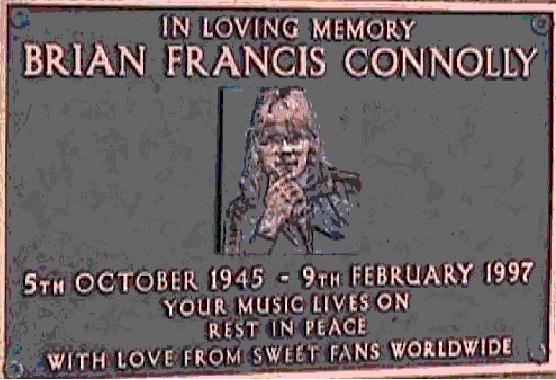 Jet
A Fan Mael Records CD-reissue of the 1975 self-titled Jet album will see the light of day very soon. There will be a double-CD, the first one containing the original album plus the rare single- b-side track "Quandary". Lots of bonus tracks like unreleased recordings for the never released second Jet album as well as live versions of Jet songs and demos of the 2 Bolan songs "Desdemona" and "Horrible Breath" will be on the second CD of this superb package. You will find the complete track-list and more details at Fanmael.
Coinciding there will be several concerts billed as "(The Legendary) Johns Children/Jet/Radio Stars", the first show takes place on April 26, 2000 and "Dingwalls" (Camden Lock) in London. Here are the complete tour dates:
April 26 Dingwalls (Camden Lock) London - Jet / WW
April 27 Pfefferberg Berlin - Jet / WW
May 1 Club Arena Amsterdam - Jet / WW
May 3 Nachtleben Frankfurt - Jet / WW
The current line-up consists of Andy Ellison, Martin Gordon, Ian McLeod, Chris Townson a.o.
Haysi Fantayzee
The following news are taken from the recently renewed brilliant
The vocals of Kate Garner and her 3 year old daughter are featured on a new release by "THE BOUNCY CASTLE" that will appear on Peopletree Records. Not being enough, Kate is also working on a new CD called "Falafelelf" which is hoped to be released in late spring.
Jeremy Healy and musical partner Amos have formed a new band called Bleachin, according to a recent release in the British music press.
Sadly the classic Haysi Fantayzee album BATTLE HYMNS FOR CHILDREN SINGING will not be re-released on CD as it has been planned for a long time - due to licensing reasons.
February 2000
Wizzard / Roy Wood
Is this already the ultimate glam rock news 2000 what we can read at the official Roy Wood website ??? Recently the tapes for the "lost" never released third Wizzard album have been discovered and a release this year under the tentative album title "Main Street" through Demon/Edsel seems very likely.
In the meantime Repertoire Records released a Wizzard singles collection titled Singles A´s and B´s (REP 4762-WY). It comes in an attractive digipack cover with a 12 page booklet containing biography and many pics.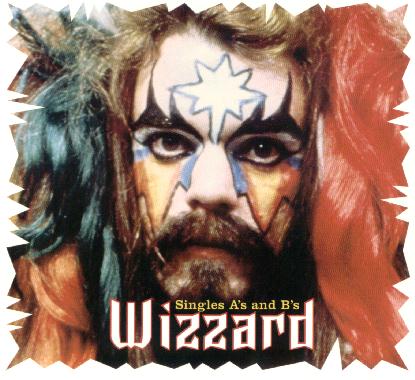 Tracklisting:
1.  Ball Park Incident
2.  See My Baby Jove
3.  Angel Fingers
4.  Rock And Roll Winter
5.  This Is The Story Of My Love (Baby)
6.  You Got Me Running
7.  Are You Ready To Rock
8.  Rattlesnake Roll
9.  The Carlsberg Special
10.  Bend Over Beethoven
11.  You Got The Jump On Me
12.  Dream Of Unwin
13.  Nixture
14.  Marathon Man
15.  Can´t Help My Feelings
16.  I Wish It Could Be Christmas Everyday
17.  Rob Roy´s Nightmare
18.  Can´t Help My Feelings (German single version / special bonus track)
Repertoire also released a similar singles collection of "The Move" material and a nicely packaged Roy Wood double CD entitled Exotic Mixture - Best Of Singles A´s and B´s. More infos on these compilations see the aforementioned Roy Wood website.

Slade

Last year he published his autobiography, now Noddy Holder has been nominated for MBE ! First he thought it was a joke when friends told him about it. We will let you know when "Sir" Noddy receives the honour.

Nina Hagen

On January 24th the new single Der Wind Hat Mir Ein Lied Erzählt (Orbit / Virgin 8965212) saw the light of day. After the 1983 hit single Ich Weiss Es Wird Einmal Ein Wunder Gescheh´n this is Nina´s second cover of a Zarah Leander classic, this time a very dramatic ballad. Latest news: the single just entered the German charts on Feb. 7th at No. 96.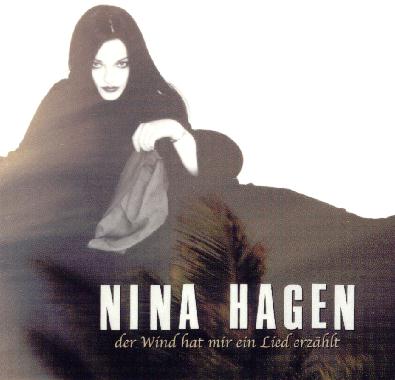 Tracks:
1. Radio Edit - 3.49
2. Long Version - 5:34
3. Alternative Version - 3:58


Now further details of Nina´s new album Return Of The Mother (CD - B 48869 Z) have been revealed on her most recently heavily renewed official website.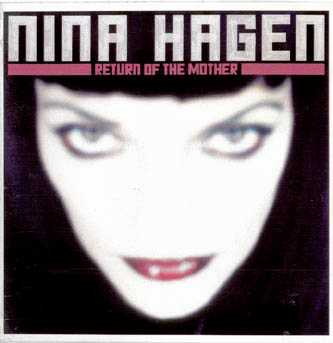 (album cover taken from www.nina-hagen.com)
Here is the complete tracklist:
1. Return Of The Mother
2. Der Wind Hat Mir Ein Lied Erzählt
3. Schachmatt
4. Frequenzkontrolle
5. Poetenclub
6. Höllenzug
7. Schüttel Mich
8. Yes Sir
9. Handgrenade
10. He Shiva Shankara
Gary Glitter
During the past days, weeks, months... there was a lot to read / hear / watch about Gary in the media though not very pleasant things of course. Now he has been released from the Bristol prison and his musical future remains uncertain. Rumours say he has sold all his properties in England to emigrate to Cuba. Strangely or not Bay City Rollers´ drummer Derek Longmuir is currently facing a lawsuit in a similar case.
January 2000
Marc Bolan / T.Rex
The official Marc Bolan Fan Club has re-opened its website, check it out at http://www.marc-bolan.com
The Glitter Band
Congratulations, John Springate and Gerry Shephard from The Glitter Band have a song in the final of The Great British Song Contest 2000. Good luck to them!
Sparks
Last November their new single "More Than A Sex Machine" has been released in Germany through WEA. It comes as 2 CDsingles, CD1 containing another excellent new track "Aeroflot" while CD2 features the usual dance remixes. The long-awaited brand new Sparks album Balls is scheduled for a 2000 release.
Sigue Sigue Sputnik
Yes, they still exist and they will release a new album in the year 2000!!! A first live date seems confirmed already, Sigue Sigue Sputnik will play in Leipzig/Germany at the "Wave-Gotik-Treffen" which will take place from 9th to 12th June 2000.
Hello
Recently, Repertoire Records released a great "Best Of & Rarities" CD in Germany containing 5 unreleased tracks!!!
David Bowie
The second single taken off the brilliant hours... album is "Survive". The clip already is screened by the major music TV channels. So far it is a UK release only.
Tracklist:
CD1 (Virgin VS CDT 1767 - 724389648607)
1. Survive (Marius de Vries Mix) - 4:18
2. Survive (Album Version) - 4:11
3. The Pretty Things Are Going To Hell (Stigmata Film Version) - 4:46
+ enhanced bonus video: "Survive" (promo clip)
CD2 (Virgin VS CDX 1767 - 724389648706)
1. Survive (Live) - 4:10
2. Thursday´s Child (Live) - 5:37
3. Seven (Live) - 4:07
+ enhanced bonus video: "Survive" (Live in Paris)
Nina Hagen
The new Nina Hagen album Return Of The Mother will be released on February 14th. Everyone expects a masterpiece since Nina and her band worked on it for ca. 3 years. Many of the new songs were played on Nina´s 1998 and 1999 tours, especially last summer´s gigs proved that the new material got the best possible production now.
Those who cannot wait should buy the duet single "Fieber" by Oomph! featuring Nina Hagen which also features a great dance mix by Steve Naghavi of And One.
---
---