Hello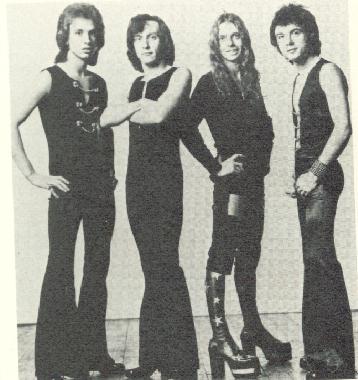 The 4 Hello members :
Bob Bradbury (voc./guit.)
Keith Marshall (lead guit.)
Vic Faulkner (bass)
Jeff Allen (drums)
grew up in northern London suburbs Tottenham and Wood Green. Starting under the name "The Age" they first performed at local school parties covering Rock classics. In the beginning some band members were just 11 years young! In 1971 they first met their manager David Blaylock who introduced them to guitarist Russ Ballard (who was a member of Argend at the time).
In August 1971 Hello signed their first record deal and the debut single "You Move Me" already caused some reaction. The fouth single "Tell Him" started a range of many Hello-hits incl. "Game´s Up", "Bend Me Shape Me", "Star Studded Sham", "Love Stealer" , "Let It Rock" and of course the million-selling classic "New York Groove". Two albums were released: "Keeps Us Off The Streets" (1976) and "Again" (1978). In 1979 the band split up.
However, the 90s saw a Hello reunion with several concert and TV performances and even a new album of cover-versions, entitled "Glam Rockers" got released in 1996. Today the band is still working with Blaylock Management Ltd. and a recent half-pseudonymous Bob Bradbury project was a glamrock megamix CD titled "Glamtastic".
You will find Hello on the internet at the following websites:

official website: www.helloband.co.uk

http://members.aol.com/uheep2/hello.html